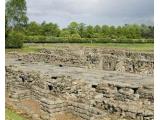 | | |
| --- | --- |
| Looking for: | Heritage, Museums / Galleries |
| Address: | Corchester Lane, Corbridge, Northumberland, NE45 5NT |
| Postcode: | NE45 5NT |
| Age Group: | All Ages |
| Kids Activity: | Outdoors |
| Telephone: | 01434 632349 |
| Website: | Click Here |
Attraction Information:
---
Not all the sites on Hadrian's Wall were heavily guarded fortresses. Corbridge was once a bustling town and supply base where Romans and civilians would pick up food and provisions.
It remained a vibrant community right up until the end of Roman Britain in the early years of the 5th century.
Today, you can still walk through the town's streets and experience a time-capsule of Roman life.
You can also discover Roman armour and trinkets uncovered with the Corbridge Hoard at the museum.
The Hoard was one of the most significant finds in Roman history, providing us with a fascinating insight into the life of a soldier on the Wall.
The museum is also home to the Corbridge Collection, the largest of the Hadrian's Walls collections.
Don't Miss
Remnants of the Corbridge Hoard on display in the Museum
Hadrian's Cavalry 2017 - Unique exhibition and events exploring Hadrian's Cavalry at 10 venues across the length of Hadrian's Wall.
The Corbridge Lion
Opening Times
1 April - 30 September 2017
Monday 10:00 - 18:00
Tuesday 10:00 - 18:00
Wednesday 10:00 - 18:00
Thursday 10:00 - 18:00
Friday 10:00 - 18:00
Saturday 10:00 - 18:00
Sunday 10:00 - 18:00
Notes
Last admission 30 minutes before closing time
Holiday opening times for this period
Good Friday
14 Apr 2017 10:00 - 18:00
Easter Sunday
16 Apr 2017 10:00 - 18:00
Easter Monday
17 Apr 2017 10:00 - 18:00
Early May Bank Holiday
1 May 2017 10:00 - 18:00
Spring Bank Holiday
29 May 2017 10:00 - 18:00
Summer Bank Holiday
28 Aug 2017 10:00 - 18:00
1 October - 29 October 2017
30 October - 31 December 2017
1 January - 9 February 2018
10 February - 18 February 2018
19 February - 29 March 2018
30 March 2018 onwards
Opening times will be available nearer the time