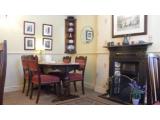 Looking for:
Heritage, Historical
Address:
Cogglesford Mill
East Road
Sleaford
Lincolnshire
Postcode:
NG34 7EQ
Telephone:
01529 309409
Website:
Click Here
Attraction Information:
---
Cogglesford Mill Cottage, a delightful and historic building nestled
adjacent to the River Slea, was once home to the millers who worked
the mill next door where flour has been produced for hundreds of years
and still is today.The cottages were almost derelict until they were
renovated in 1990 and then used as offices. We then purchased them
in December 2003 and transformed them into what you see today,
having achieved what we set out to do and create a friendly and relaxing
atmosphere for you to enjoy freshly prepared delicious cuisine, sourced
from some of Lincolnshire's finest producers.
Admission:
Free to visit, donations welcome.
Opening Times:
Monday 10.30am to 3pm
Tuesday 10.30am to 4pm
Wednesday 10.30am to 4pm and 6pm to 11pm
Thursday 10.30am to 4pm and 6pm to 11pm
Friday 10.30am to 4pm and 6pm to 11pm
Saturday 10.30am to 4pm and 6.30pm to 11pm
Sunday 10.30am to 4pm