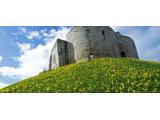 | | |
| --- | --- |
| Venue Info: | Parking |
| Looking for: | Heritage, Historical, Parks & Gardens |
| Address: | Tower Street, York, North Yorkshire, YO1 9SA |
| Postcode: | YO1 9SA |
| Age Group: | All Ages |
| Kids Activity: | Outdoors |
| Telephone: | 0370 333 1181 |
| Mobile: | 01904 646940 |
| Website: | Click Here |
---
The stunning panoramic views over Old York from the top of Clifford's Tower, make it the ideal starting point for any visit to the city. There's plenty to discover at this imposing tower standing proud on its high mound. It is almost all that remains of York Castle built by William the Conqueror, and has served as a prison and a royal mint in its time.
English Heritage has received approval on plans to enchance the visitor experience at Clifford's Tower. Significant investment at the York landmark will create a new viewing platform at the top of the tower, suspended metal walkways within the tower giving access to previously unseen features and a welcoming visitor centre at the base of the mound. Find out more about the project and planned closures.
FURTHER PRICING DETAILS:
Prices are valid from 1 April 2017 to 29 March 2018.
ABOUT GIFTAID
The Gift Aid admission price includes a voluntary donation of 10%. Provided you have paid enough UK Income or Capital Gains Tax * (to cover all of your Gift Aid donations in this tax year), English Heritage is able to reclaim tax on the whole amount you have paid - that's 25p on every £1. This extra money enables us to undertake vital conservation and education projects and ensure that many of England's most important historic sites can continue to be enjoyed by future generations.
* Other taxes such as Council Tax and VAT do not apply.
OPENING TIMES
1 MAY 2017 - 24 MARCH 2018
Clifford's Tower is open 10am-6pm every day of the week.
GUIDEBOOK: CLIFFORD'S TOWER
Price: £3.50