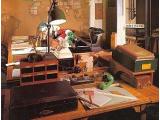 Looking for:
Heritage, Museums / Galleries
Address:
Rooms
Clive Steps
King Charles Street
London
Postcode:
SW1A 2AQ
Age Group:
All Ages
Kids Activity:
Indoors
Telephone:
020 7930 6961
---
Shortly after becoming Prime Minister in May 1940, Winston Churchill visited the Cabinet War Rooms to see for himself what preparations had been made to allow him and his War Cabinet to continue working throughout the expected air raids on London.
The Churchill Museum uses cutting-edge technology and multimedia displays to bring the exciting story of Winston Churchill to life. From Churchill's childhood to his 'finest hour' and later years, visitors not only learn more about his political exploits but also his private life, successes and failures.
Central to the Museum is the state-of-the-art Lifeline exhibit – a 15-metre-long interactive table on which visitors can access information from every year of Churchill's life, even drilling down to specific weeks and days. The Lifeline puts key events in Churchill's life in context and engages users through a variety of animations and sounds.
Open daily except 24, 25 and 26 December.

9:30am - 6.00pm (last admission 5.00 pm)