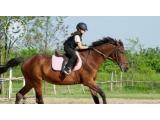 Looking for:
Horse Riding
Address:
Chorley Equestrian Centre
Higher Garstang Farm
Chapel Lane at Heapy
Chorley
Lancashire
Postcode:
PR6 8TB
Telephone:
01257 268801
Website:
Click Here
---
Chorley Equestrian Centre is a British Horse Society Approved riding school on the edge of the scenic West Pennine Moors just 3 miles from the market town of Chorley and 2 miles from the M61.
They've been going 30 years now and are a friendly, family oriented riding school run by a team of highly qualified teaching staff. The school caters for all ages and levels of ability, from total beginners right up to Stage 3 exam students! There are 14 horses and ponies ranging from 11.2h to 16.2h so it's a simple matter to pair you with a suitable mount, and the facilities include an indoor school, outdoor sand arena, cool cross country course and a whopping 42 acres of land to trot about!
Admission:
Cash only.
Private (1 to 1)
Half hour £23 £24
Shared (1 to 2) Half hour £18.60 £19.90
Shared (1 to 3) Half an hour £16.80
£18.10
Opening Times:
Booking required.