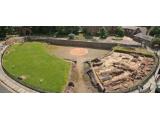 | | |
| --- | --- |
| Looking for: | Heritage, Historical |
| Address: | Little St John Street, Chester, Cheshire, CH1 1RE |
| Postcode: | CH1 1RE |
| Age Group: | All Ages |
| Kids Activity: | Outdoors |
| Telephone: | 0370 333 1181 |
| Website: | Click Here |
Attraction Information:
---
The Roman amphitheatre at Chester was the largest in Britain. Used for entertainment and military training, there have been two stone-built amphitheatres on the site.
The first included access to the upper tiers of seats via stairs on the rear wall, as at Pompeii, and had a small shrine next to its north entrance. The second provided seat access via vaulted stairways. The two buildings differed from each other and from all other British amphitheatres, underlining the importance of Roman Chester.
Managed by Chester City Council.
Read more about the history of Chester Roman Ampitheatre.
BEFORE YOU GO
Parking: There are several paid car parks in the city centre a short walk from the Amphitheatre.
Facilities: There are shops, food outlets and toilets nearby in the city centre.
Schools and Groups: Schools and groups should contact the Grosvenor Museum to arrange a visit. Call 01244 972197.
PLAN A GREAT DAY OUT
There are many shops, food outlets and facilities nearby in the city centre, and the grounds of the amphitheatre are a great spot for a picnic.
Chester has a wealth of historic sites all within easy walking distance and contained within the famous city walls. Don't miss Chester Castle which you can visit as part of a walking tour run by Chester Tours. Next to the amphitheatre are the Roman Gardens, which can be seen from above on Chester Tours' Chester Walls Walk.
Discover more about Chester's rich history at the Grosvenor Museum.
A short half hour drive from the city is Beeston Castle which boasts 4,000 years of history, spectacular views, delightful woodland walks and a small café. It is well worth a detour.
OPENING TIMES
1 MAY 2017 - 24 MARCH 2018
Open any reasonable time during daylight hours
25 MARCH 2018 ONWARDS
Opening times will be available nearer the time