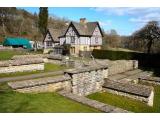 Looking for:
Heritage, Historical
Address:
Chedworth Roman Villa
Yanworth
Cheltenham
Gloucestershire
Postcode:
GL54 3LJ
Telephone:
01242 890256
Website:
Click Here
Attraction Information:
---
Chedworth Roman Villa can be reached after a lovely drive through beautiful countryside, which adds to the experience.
This is an excellent place to enjoy a picnic with the famly while surrounded by a lovely woodland.
The kids will be able to learn about what life at the villa must have been like, plus the history of how the site was discovered by the Victorians. There are placards in each room to explain their purpose, which offer kids a chance to find out about the amazing inventions that were brought to this country by the Romans, such as bathhouses, latrines and even under floor heating!
Free guided tours are available most days and there is no need to book. With the help of one of the knowledgeable volunteers, you can discover the secrets of this ancient site.
Admission:
Adult £9.90
Child £4.95
Family £24.75
Opening Times:
Open daily until November, please check online for more information