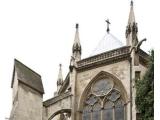 | | |
| --- | --- |
| Looking for: | Heritage, Historical |
| Address: | Dean's Yard, Westminster Abbey, London SW1P 3PA |
| Postcode: | SW1P 3PA |
| Age Group: | All Ages |
| Kids Activity: | Outdoors |
| Telephone: | 0370 333 1181 |
| Website: | Click Here |
---
Built by the royal masons in 1250, the Chapter House of Westminster Abbey was originally used in the 13th century by Benedictine monks for their daily meetings.
It later became a meeting place of the King's Great Council and the Commons, predecessors of today's Parliament.
A beautiful octagonal building with a vaulted ceiling and delicate central column, it offers rarely seen examples of medieval sculpture, an original floor of glazed tiles and spectacular wall paintings.
The 11th century Pyx Chamber also has a medieval tiled floor, and was used as a monastic and royal treasury.
It contains a 13th century stone altar which survived the Reformation.
The Chapter House and Pyx Chamber are managed by the Dean and Chapter of Westminster. For more information about Westminster Abbey visit their website or call 020 722 5152.
Before You Go
Opening Times: Open 10am-4pm, Monday to Saturday. These are the usual opening times but please check with Westminster Abbey before visiting, because the Abbey can be closed at short notice on state or religious occasions.
Closed over Christmas and Good Friday. See details.
Access: There is a short set of steps up into the Chapter House. It is not necessary to climb these to enter the Pyx Chamber, but the Chamber has two shallow steps down into it, which are about a metre apart.
Parking: There are no parking facilities at the Abbey and only very limited car parking in the surrounding area. We suggest you visit by public transport because the Abbey is close to train and Underground stations, and is on a number of bus routes.
How to Find It: Chapter House and Pyx Chamber are part of Westminster Abbey and are located on the south side of the cloisters. To find the cloisters, enter Dean's Yard from Broad Sanctuary and turn left across the square.
Please Be Aware: Access to the cloisters area of the abbey is free. Tickets to visit the rest of the abbey complex can be purchased from the abbey online or in person.
Facilities: The Cellarium Café and Terrace (not managed by English Heritage) can be found in the cloisters. There is a toilet of the use of the café's customers. The nearest public toilets can be found at Westminster underground station.
The Abbey Shop in Broad Sanctuary can be visited without a ticket for entrance to the Abbey. It sells a wide range of books, souvenirs and gifts.
Dogs: Assistance dogs only.
Plan a Great Day Out
Walk a minute around the corner to Jewel Tower - a 14th century surviving element of the royal Palace of Westminster. After exploring the tower's secrets, enjoy a hot drink and browse for a souvenir at the shop.
At Hyde Park Corner, the glittering interiors of Apsley House offer a fascinating insight into the life of the Duke of Wellington, and house one of London's finest collections of art. Next door, the grand Wellington Arch stands as a testament to the Duke's achievements, and offers fantastic views from its balconies.
Opening Times
1 April 2017 - 29 March 2018
Monday 10:00 - 16:00
Tuesday 10:00 - 16:00
Wednesday 10:00 - 16:00
Thursday 10:00 - 16:00
Friday 10:00 - 16:00
Saturday 10:00 - 16:00
Sunday Closed
Notes
Shuts at dusk if this is earlier than 16:00. May close at short notice on state and religious occasions.
Holiday opening times for this period
Good Friday
14 Apr 2017 Closed
Easter Sunday
16 Apr 2017 Closed
Easter Monday
17 Apr 2017 10:00 - 16:00
Early May Bank Holiday
1 May 2017 10:00 - 16:00
Spring Bank Holiday
29 May 2017 10:00 - 16:00
Summer Bank Holiday
28 Aug 2017 10:00 - 16:00
Christmas Eve
24 Dec 2017 Closed
Christmas Day
25 Dec 2017 Closed
Boxing Day
26 Dec 2017 Closed
30 March 2018 onwards
Opening times will be available nearer the time