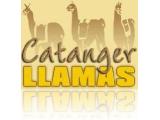 Looking for:
Animals & Farms, Childrens Activities
Address:
18 HIgh St
Weston
Towcester
Northamptonshire

Telephone:
Postcode:
NN12 8PU
Age Group:
All Ages
Kids Activity:
Indoors and Outdoors
Telephone:
(01327) 860808
Website:
Click Here
Attraction Information:
---
Established in 1995, Catanger Llamas is in the heart of the Northamptonshire countryside, often referred to as the county of 'squires and spires' with idyllic villages and beautiful rolling countryside, unspoilt and blissfully quiet. Although you can't actually ride them, these lovely pack animals will willingly carry your rucksack whilst you enjoy the beautiful scenery. What better way to get away from it all than by leading a gentle llama along bridleways, farm tracks and country lanes. A perfect way to de-stress! Why not make a short break of it, come and explore this undiscovered part of the English countryside.
Personally guided treks available all year round
Your own llama for the trek
Tailor-made corporate days and large party treks
No charge for children 8-12 years but they must be accompanied by one adult for each child and be able to walk for 2 hours covering 4 - 4½ miles. On-farm treks for children's parties. Not suitable for younger children.
Trekking vouchers for that unforgettable gift
Single trekkers are welcome subject to booking dates
Disabled access and facilities in Visitor Centre
Prices are dependent on the size of your group and the number of llamas you would like, so please contact us for a personal quote
On-Farm Trek
2 adults and 2 children with 2 llamas is £65
Prices for half day experience 2 adults and 2 children with 2 llamas is £95.
Every trek is preceded by half an hour's information and instruction. This trek takes us through our specially mown rides in our 20 acre native woodland at Catanger. You are then welcome to visit the moms and babies and to picnic of the farm. Not suitable for children under 7.