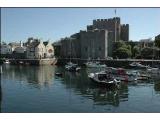 Looking for:
Heritage, Historical
Address:
Castle Street
Castletown
Isle of Man
Postcode:
IM9 1LD
Age Group:
All Ages
Telephone:
01624 648000
Website:
Click Here
---
Situated in the heart of Castletown, the Island's ancient capital, Castle Rushen is one of Europe's most finely preserved medieval castles and fortress of the Kings and Lords of Mann.
A building of huge historical importance, the castle is situated in the centre of manns ancient capitol, Castletown. It's origins can be found in the Norse period when Norse Kings fortified a strategic site guarding the entrance to Silverburn River. The castle was developed by successive rulers of Mann between the 13th and 16th centuries and its towering limestone walls would have been visible over much of the south of island.
Interactive displays throughout the castle include the skilfully replicated sounds, sights and smells of the past.
The castle also came under siege by Robert the Bruce.
Admission:
Adult £6
Child £3
Opening Times: 2015 Opening Details:
Weekends 6 February and daily 20 March 11am to 3pm.
Daily 25 March to 27 May 10am to 4pm.
Daily 28 May to 4 September 10am to 5pm.
Daily 4 September to 6 November 10am to 4pm.
Disabled: Limited Access, Disabled Toilet
Lots of steps
Parking: Available