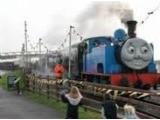 Looking for:
Museums / Galleries, Transport
Address:
Buckinghamshire Railway Ctr
Quainton Road Station
Quainton
Aylesbury
Buckinghamshire
Postcode:
HP22 4BY
Age Group:
All Ages
Kids Activity:
Outdoors
Telephone:
01296 655450
Website:
Click Here
Attraction Information:
---
In 1968 the London Railway Preservation Society chose Quainton Road to establish its Centre. From modest early beginnings on a few metres of weed grown track the volunteer members of the renamed Quainton Railway Society have established the Buckinghamshire Railway Centre as one of the leading steam museums in the country - covering nearly 30 acres the collection includes some 35 steam locomotives as well as examples of both diesel locomotives and multiple units. The large collection of carriages and wagons includes a 1901 coach used latterly in the Royal Train together with a specially converted vehicle from 1943 used as a mobile meeting room by Winston Churchill and General Eisenhower.
Wandering amongst the collection of vehicles in the care of the centre it is easy to slip back in time to the golden age of steam when life moved at a slower pace. We hope you enjoy your visit to Buckinghamshire Railway Centre where in the midst of delightful Buckinghamshire countryside you can be assured of an interesting and enjoyable visit.
The Buckinghamshire Railway Centre is a working Steam Museum with one of the UK's largest collections of locomotives, rolling stock and railway memorabilia. A re-created country station in the heyday of steam travel, offers steam train rides on certain days.
Event Adults Seniors Child 5-15 Family 2 Adults and up to 4 Children
Steaming Open Days
A full size engine will be in steam offering unlimited free train rides. Train rides can also be taken on our miniature railway for a small charge. Hot and cold snacks are available in the cafe and both our well stocked gift shop and bookshop are open.
£11.00 £10.00 £8.00 £32.00
Special Events
Activities as for steaming open day together with a programme of visiting attractions and special activities – see calendar for details.
£13.00 £12.00 £10.00 £38.00
Restricted Viewing Days
The Centre is open for "restricted viewing".No trains will be running and not all areas will be open on these days, intending visitors should telephone 01296 655720 to check before travelling.Cafe is self service drinks only. £6.00 £5.00 £4.00 £13.00
Day Out With Thomas™