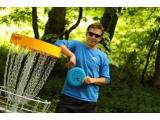 Looking for:
Active, Childrens Activities
Address:
Bristol Disc Golf
Ashton Court Estate
Long Ashton
Bristol
Gloucestershire
Postcode:
BS41 9LX
Telephone:
07986 461345
Website:
Click Here
---
Bristol Disc Golf
10 holes of quirky disc golf, fun for kids without experience and very satisfying it you've got a good aim.
Basically one throws the frisbee like disc toward the flag rather than the classic club and ball.
Ashton Court Estate course is free to play, discs are available to borrow from the courtyard cafe when open.
Admission:
Free to borrow, free to play!
Car Parking in ashton court estate is £1 all day payable to Bristol city council.
Opening Times:
The course is available to play everyday and is open to all and free. Discs can be borrowed from the visitor centre on a deposit basis. Maps are available online.
Cafe where you pick the discs up is open all year (except Christmas Eve, Christmas Day, Boxing Day, New Year's Eve and New Year's Day):
Monday to Sunday 9am to 5pm (April to October).
Monday to Friday 10am to 3pm (November to March).
Saturday and Sunday 9am to 4pm (November to March).