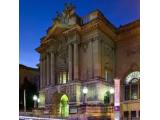 Looking for:
Museums / Galleries
Address:
Bristol City Museum Under 7s Gallery
Queens Road
Bristol
Gloucestershire
Postcode:
BS8 1RL
Age Group:
All Ages
Kids Activity:
Indoors
Telephone:
0117 922 3571
Website:
Click Here
Attraction Information:
---
Younger visitors can tell stories in our crystal cave, act out a performance on stage, bring stories to life using puppets, make a pot or try the animuddle game- just some of the activities for you and your child to enjoy in their own mini-museum. The under 7s area is part of a larger gallery which invites visitors to explore objects from our Archaeology and World Culture collections.
Opening Hours
Monday to Friday
10am to 5pm.

Saturday, Sunday and Bank Holiday Mondays
10am to 6pm.
Free admission?