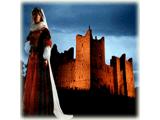 Looking for:
Historical, Heritage
Address:
Castle Bolton
Leyburn
North Yorkshire
Postcode:
DL8 4ET
Telephone:
+44 (0)1969 623 981
Attraction Information:
---
Bolton Castle is a spectacular mediaeval fortress, situated in the heart of the beautiful Yorkshire Dales, on the boundary of the Yorkshire Dales National Park. It was built in 1399 by Richard le Scrope, 1st Lord Scrope of Bolton and Lord Chancellor of England. Bolton has never been sold, and remains in the private ownership of Lord Bolton, Richard le Scropes' descendant. Go to the history pages to find out more about the fascinating trials and tribulations of Bolton's captivating history.
Bolton is open daily throughout the year to visitors, and is also available for hire; we have a civil wedding license, and receptions grand or small can be held. Bolton is also available for use as a filming venue. We have had scenes from Ivanhoe, Elizabeth (the film), Heartbeat and 'All Things Great and Small'. There are also filming opportunities on other areas of the estate, whether it is moor-land or forest you are looking for.