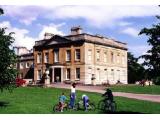 Looking for:
Historical, Heritage, Museums / Galleries
Address:
Henbury Road
Henbury
Bristol
Somerset
Postcode:
BS10 7QS
Age Group:
All Ages
Kids Activity:
Indoors and Outdoors
Telephone:
+44 (0)117 903 9818
Website:
Click Here
Attraction Information:
---
Situated in the beautiful parkland of the Blaise Estate at Henbury, the Museum is housed in a late eighteenth century mansion, and contains most of the Museums Service's social history collections.
Here you can see all sorts of familiar - and not so familiar - items from homes through history, treasured toys including the popular model train collection, and beautiful period costumes.
Blaise Castle House was built in 1796-98 for John Harford, a wealthy Bristol merchant and banker. Inside some of the original ornamentation remains, such as casts of Classical and Neo-Classical sculptures and reliefs, including a set cast from the parthenon marbles.
You can also experience the beautiful Picture Room, restored to its Victorian splendour during the 1990's.
While the house was being built the grounds were laid out by Humphry Repton (1752-1818) a leading landscape gardener, and the Regency architect John Nash added of the dairy and the conservatory.
Opening Hours
Monday to Thursday, 8.30am to 5pm
Friday, 8.30am to 4.30pm