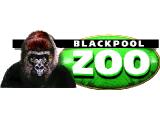 Looking for:
Zoos & Wildlife
Address:
Blackpool Zoo and Dinosaur Safari
East Park Drive
Blackpool
Lancashire
Postcode:
FY3 8PP
Telephone:
01253 830830
Website:
Click Here
---
Just two miles from the famous sea-front, the AWARD WINNING Blackpool Zoo provides a home to over 1500 animals from all over the world. The Zoo provides new standards of animal care and aims to provide a stimulating, informative and enjoyable experience that demonstrates its role in the conservation of endangered species.
Come on in and take a tour of the Zoo and the habitats and animals of the world - choose where to start your adventure from the buttons above!!!
Education;
We have lots of fun learning! Please take a couple of minutes to look through the exciting facilities we have to offer!
Dinosaur Safari at Blackpool Zoo - Join us on an unforgettable journey back through time to the amazing lost world of the dinosaurs...
The World's First Nursery in a Zoo - Our aim is to:
Provide a warm, friendly, secure and happy environment for your child in order to stimulate them through play and other activities. We offer your child the opportunity to interact with others to promote social, intellectual, physical and emotional development.
A "zoo-nique" experience in childcare, the A - Zoo Nursery can accommodate up to 66 children from 3 months - 4 years of age on either a full-time or part-time basis.