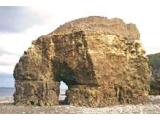 Looking for:
Beach / Seaside, Outdoor / Active
Address:
Blackhall Rocks on Durham Coast
Hartlepool
Durham
Postcode:
TS27 4AT
Website:
Click Here
Attraction Information:
---
The coastline between Seaham and Blackhall is accessible at a number of points, notably at Seaham in the north, Easington, Peterlee and Blackhall Rocks in the south.

There is an extensive cycle network and 20km of coastal footpath. Blackhall Rocks, south of Peterlee is a Durham Wildlife Trust reserve from where access to the beach and cliffs can be gained.


The reserve can be approached from a number of points although the car park close to the rocks is the most convenient.

From the crossroads on the A1086 at Blackhall Rocks Village, a minor road leads east under a railway bridge and down towards the beach. A right fork leads to a car park. There is a steep footpath down to the sea.

Admission:
Free!

Opening Times:
Year round daylight access.
No lifeguard cover at any time.