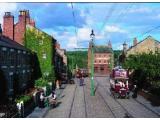 Looking for:
Active, Heritage, Museums / Galleries
Address:
Beamish
County Durham
Postcode:
DH9 0RG
Age Group:
All Ages
Telephone:
0191 370 4000
Website:
Click Here
Attraction Information:
---
At the North of England Open Air Museum, the past comes to life. Beamish is unique. We're no ordinary museum, but a living, working experience of life as it was in the Great North in the early 1800s and 1900s.
Beamish, Britain's favourite open air museum, set in over 300 acres of beautiful countryside, vividly recreates life in the North of England in the early 1800s and 1900s.
Winner of both the British Museum of the Year and European Museum of the Year Awards, it demonstrates the recent history of the region in a "living" way and provides entertainment and education for visitors of all ages and interests.
People from the past welcome visitors and interpret how the people of the North of England lived and worked. Step on board our trams and we'll transport you into the past.
Our real ice rink is open every weekend and school holidays from late November until the 21st February.
How much is it?
Tickets, including skate hire, are £4 for children and £5 for adults for at least a 20 minute session. Plus we have a special offer – 'Kids go Free' – One child up to 16 years skates free with one full paying adult skater.
Admission:
Unlimited Tickets valid for 12 months:
Adult £18.50
Senior (60 years) or Student £13.50
Child (5 to 16 years) £10.50
Child (Under 5) FREE
Family (1 Adult + 2 Children) £34.50
Family (2 Adults + 2 Children) £48.50
Opening Times:
March to 2nd November open 7 days a week from 10am to 5pm. All period areas open.
November to March open 5 days a week from 10am to 4pm. Open Tuesday to Thursday, Saturday and Sunday. Closed Monday and Friday. Varying range of features available, not as full as summer.