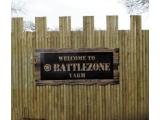 Venue Info:
Parking
Looking for:
Childrens Activities, Outdoor / Active
Address:
Haggitt Hill Lane,
Picton
Postcode:
TS15 0AA
Kids Activity:
Outdoors
Telephone:
01642605000
Website:
Click Here
Attraction Information:
---
Our flagship paintball, junior paintball and laser tag venue. A five star venue offering up non-stop action.
Enter a world of adrenaline pumping and heart pounding action with our outdoor laser tag sessions ran at our Yarm site ideally located near Stockton and Middlesbrough.
Perfect for those who aren't old enough to play paintball and for those who don't fancy the pain of paintball.
Your children will be immersed into a unique urban environment and within the 1 hour laser tag allotted time will experience various game zones and scenarios.
All equipment will be provided such as helmets and laser guns, alongside instruction, guidance and supervision. So don't worry about hanging around whilst they play, we've got it covered.
LASER TAG
£10 /per person
Session Time 1 Hour
Latest In Laser Tag Technology
Party Area after session
30 Minutes
Minimum Age
8 Years
Minimum Group Size
10
Maximum Group Size
20