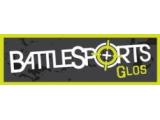 Venue Info:
Cafe, Parking
Looking for:
Childrens Activities, Outdoor / Active
Address:
Elton Farm Leisure
Littledean Road
Postcode:
GL14 1JU
Kids Activity:
Outdoors
Telephone:
07587144424
Website:
Click Here
Attraction Information:
---
LASER TAG PLAYED OUTSIDE AS EXCITING AS PAINTBALL BUT WITHOUT THE PAIN!
Birthday Parties | Team Building | Schools

Laser Tag is a safe, environmentally friendly outdoor activity where players use guns that fire infra-red beams. The aim of the game is to wipe out your opponents by shooting at their sensors, which can be found on their head band and gun.

Two teams play a series of different games and scenarios, unlike paintball ammunition is completely unlimited so you always stay in the game.
If you play XBOX or PLAYSTATION you will love this activity. Who wouldn't want to play Halo, Fortnite or Call of Duty LIVE whilst getting exercise and fresh air!
Laser Tag is the perfect activity for 'Gamers' . It is an immersive real life combat activity which gets players outside and active.

Outdoor Laser Tag based in Gloucestershire Using the latest digital laser tag guns. Suitable for Birthday parties, schools and corporate team building