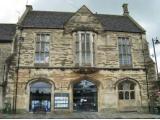 Looking for:
Museums / Galleries
Address:
Town Hall
Cross Hayes
Malmesbury
Wiltshire
Postcode:
SN16 9BZ
Age Group:
All Ages
Kids Activity:
Indoors
Telephone:
01666 829258
Website:
Click Here
Attraction Information:
---
Come on in. How are you? Sit down, make yourself comfortable. We had better introduce ourselves. I know you are probably an interesting person with an inquiring mind and enjoy history and heritage. Me? Well, I'm a small local museum, but not just any old small local museum you understand, because I live in Malmesbury. Malmesbury is a beautiful hilltop town on the southern edge of the Cotswolds, built to a Saxon road plan round a Norman abbey. Malmesbury's pretty old; archaeological digs have shown there was a Neolithic fort here around 2,500 BC so people have lived here for four and a half thousand years! So Malmesbury may be the oldest town in the country. It claims as well to be the oldest borough as King Alfred (you know, the king that burnt the cakes) granted a charter to the town in 880 AD. So you can see I've an interesting tale to tell and one I'm proud of. Lots of fascinating people in the story too: - King Alfred's grandson, Athelstan, first king of all England; Princess Eadgyth, his half sister whose remains have recently been discovered in Magdeburg Cathedral; Eilmer, our flying monk of a thousand years ago; Thomas Hobbes the famous philosopher; Walter Powell, the M.P. who vanished at sea in a hot air balloon – oh and lots more. And I've so much more to show you; our bicycles – our lace collection, Malmesbury lace was renowned and very expensive – our roman coffin – our wonderful pictures of the area – but why am I rabbiting on like this? You don't want to listen to my ramblings; you want to have a look round for yourself.
Entrance to the museum is FREE, however DONATIONS are very welcome as we receive NO government funding.
Opening Times: 10.30.a.m - 4.30.p.m. With the help of our volunteers we are able to open 7 days a week including Sundays and Bank Holidays.