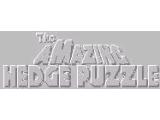 Looking for:
Childrens Activities
Address:
The AMAZING HEDGE PUZZLE
Symonds Yat West, Ross-on-Wye,
Herefordshire
Postcode:
HR9 6DA
Age Group:
All Ages
Kids Activity:
Indoors and Outdoors
Telephone:
01600 890360
Website:
Click Here
---
PLAY AND LEARN
Planted over twenty years ago by brothers Lindsay and Edward Heyes, the fun of the aMazing Hedge Puzzle has made it Herefordshire's most popular private tourist attraction.
HISTORY
People from all over the world have enjoyed finding out about mazes through the millennia. By making your own labyrinths you too can follow in the footsteps of the heroes of Ancient Greece and India, Roman soldiers, native Americans, mediaeval monks and English kings.
MYSTERY
Thousands have explored the chaotic patterns of ancient mazes. Join them and test your own theories on our computers, and contemplate mystic myths about mazes from all the world's great religions.
This is your chance to find out why the aMazing Hedge Puzzle is such an exciting place to visit!