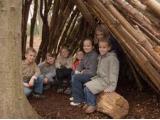 Looking for:
Outdoor / Active, Parks & Gardens
Address:
Alice Holt Forest
Forestry Commission
Bucks Horn Oak, near
Farnham
Surrey
Postcode:
GU10 4LS
Kids Activity:
Outdoors
Telephone:
01420 23666
Website:
Click Here
---
Come for a great day out in the woods! You can walk, cycle, play or have a picnic in these lovely woods. Experience life in the trees with Go Ape, take a relaxing break in our café and finish your visit with a quiet stroll in one of the more remote parts of the forest.
Whether you are interested in activities such as playing, cycling, walking and horse riding, or simply finding a quiet spot to sit and watch the world go by.
Come and refresh your body, mind and spirit with a walk in the forest. Here at Alice Holt we have walking trails to suit all abilities.