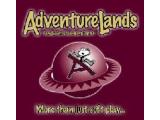 Looking for:
Indoor Play Areas
Address:
Adventurelands Family Entertainment Centre
Benton Road,
Newcastle upon Tyne.
Postcode:
NE7 7DT
Age Group:
Toddlers, 3-5, 6-9
Kids Activity:
Indoors
Telephone:
0191 259 9966
Website:
Click Here
---
Philosophy and Aims
Our overall philosophy is to provide a high quality environment placing parental comfort alongside child safety and security, whilst working towards wider health related targets.
Physical Activity
Adventurelands works to reduce the level of childhood obesity and generally to improve the fitness of children as part of its on-going philosophy. Soft play is energetic, with jumping, climbing, bouncing activities all improving gross motor development and agility skills. Adventurelands will not merely be a soft play centre, but a children's destination. It offers activities aimed at improving fitness, agility and physical health generally such as football lessons, gymnastics classes and ballet. Our schedule of toddler-time activities aims to improve coordination and balance by the inclusion of dance, ball skills, and music and movement.
Nutrition
Adventurelands offers healthy food options including salad bars, roast carvery, low fat alternatives, wholemeal bread and pastas. Baby foods and specialist dietary requirements such as gluten-free meals are also offered. All meals are freshly prepared and cooked on site.
Try our weekday toddler-time activities...
which range from
• Ball skills sessions
• Water play in our themed water room
• Art and craft sessions
• Music and movement
• Story time and many more
Comfort and security
Adventurelands views your child's safety as paramount.
All our equipment is checked daily and approved by ROSPA.
• CCTV cameras monitor key areas
• Controlled entrance and exit
• Fully trained staff
• Police checking system operated