LOOKING FOR:
Beach / Seaside, Outdoor / Active, WaterFun
ADDRESS:
Abersoch Beach
Abersoch
POSTCODE:
LL53 7DP
TELEPHONE:
01766 780658
WEBSITE:
CLICK HERE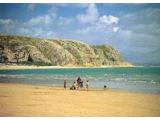 Abersoch main beach is probably the most popular beach in the area. Its sheltered position makes it ideal for bathers and watersports lovers alike. Its easterly aspect means it faces the mountains of west Wales and St Tudwal's Islands giving spectacular views. The beach is considered to be "safe" with no severe currents or rips in normal conditions. A motor boat exclusion zone provides a secure area for bathers. Speed restrictions are enforced near to the beach marked by a series of yellow buoys.

International sailing events are held from this beach providing a wonderful spectacle. A large number of yachts are moored in the bay during the summer months. The beach is also popular with powerboat users and windsurfers. The prevailing south-westerly wind blows cross-shore here which is ideal for windsurfers. There are no waves for surfers to be found here - rough water conditions occur when the wind blows from an easterly quarter.

Beach huts can be rented by the day or week. Enquire at the beach cafes.
---