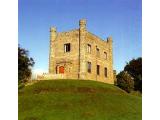 Looking for:
Heritage, Historical, Museums / Galleries
Address:
Castle Street
Abergavenny
Gwent
Postcode:
NP7 5EE
Kids Activity:
Indoors and Outdoors
Telephone:
+44 (0)1873 854 282
Website:
Click Here
---
Abergavenny Museum is housed in a Regency hunting lodge set within the ruins of a Norman castle.
As the seat of the medieval lords of Abergavenny, the castle was the focus for over three centuries of border warfare. In 1175 it was the scene of the infamous massacre of the Welsh chieftains by the Norman Lord, William de Braose.
The museum houses temporary exhibitions, events for children and a shop. Parking is nearby.
Opening hours:
Monday - Saturday: 11am - 1pm, 2pm - 5pm (until 4pm in winter months)
Sunday: 2pm - 5pm (open in summer months only)
Admission free to all
Contact 01873 854282