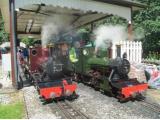 Looking for:
Transport
Address:
Millhouses Park
Abbeydale Road South
Sheffield
South Yorkshire
Postcode:
S17 3LB
Website:
Click Here
Attraction Information:
---
We are a not-for-profit model engineering society and our staff are volunteers. All revenue goes to maintaining the railway and the club's facilities, or is donated to charity. We do not charge for entry.
Tickets are £1.50 per person per ride 'all classes'.
Trains only run 1pm to 5pm on dates shown below. We will not be open on Bank Holiday Sundays and Mondays this year.
We will be open to the public on:
?Sunday July 22nd
Sunday August 5th - ANNUAL TEDDY BEARS' PICNIC - all proceeds go to Sheffield Children's Hospital Charity. Bring a picnic and meet Theo the Bear! No admission fee.
Sunday August 19th
Sunday September 2nd - Santa Special tickets on sale from 1pm today.
Sunday September 16th
Sunday September 30th
Sunday October 14th (last public running day apart from the two Santa's below)
SANTA SPECIALS
Sunday 9th December: Santa Special
?Sunday 16th December: Santa Special
Be aware that steam locomotives may emit sparks, ashes and oil which can result in injury or damage to clothing for which we cannot accept liability - please wear suitable clothing.
Our locomotives get very hot - so please do not touch them, and keep off the railway tracks!