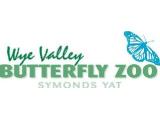 Looking for:
Animals & Farms
Address:
Symonds Yat West, Ross-on-Wye,
Herefordshire
Postcode:
HR9 6DA
Age Group:
All Ages
Kids Activity:
Indoors and Outdoors
Telephone:
01600 890360
Website:
Click Here
---
The success of the Wye Valley BUTTERFLY ZOO brings good news for winter visitors to the Wye Valley. The all-weather capability of the Butterfly Zoo is expected to remain popular even in the worst conditions, and the shops of the two attractions will also be combined to give an outstanding specialty shopping opportunity.
how you can attract butterflies to your own garden. We can help with the right plants. Your visit will help prevent the loss of biodiversity and help conserve these wonderful species at home and around the world.

Experience the delight of nature's most serene and beautiful wildlife. At the Wye Valley Butterfly Zoo you can walk with free-flying exotic butterflies and see them supping nectar, finding their mates and laying eggs.

Butterflies are amongst the largest collection of creatures in the animal kingdom and even help to provide the oxygen that we breathe. Discover the butterflies' amazing survival strategies, wonderful warning colours, mimicry and flight patterns.