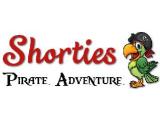 Looking for:
Indoor Play Areas
Address:
Shorties Pirate Adventure
Alexandra Road
Castletown
Isle of Man
Postcode:
IM9 1TE
Other Venues:
We are located behind S&S
Motors on Alexandra Road
Age Group:
Toddlers, 3-5, 6-9, 10+
Kids Activity:
Indoors
Telephone:
01624 82 95 92
Website:
Click Here
---
LITTLE RASCALS NURSERY IS APPARENTLY MOVING !
Arr, me hearties!
day out with the kidsCome and join Shortie the parrot on a pirate adventure after getting ship wrecked on a desert island. First ye must spin the compass to find the best route to the pirate's treasure, staying clear of the many perils ye will find on yer way. Visit the mermaids and play in their underwater cove or struggle along a rickety rope bridge, avoiding the crocs snapping at yer feet. Shortie will help ye check the map to make sure ye are on the right track to finding the hidden treasure.
Battle pirates who fire cannons and make ye walk the plank when ye finally reach the treasure in a hidden cave. As ye escape with all the gold, be careful not to take a wrong turn and go down the waterfall back to the shipwreck island. Take the right route and ye will be sailing the high seas on Captain Red Beard's Pirate Ship, where ye can look out at ye next stop … the galley for a well deserved meal!
Don't forget to use the tube phone to help navigate the other shipwrecked children up to the ship.
£4.50 admission for all children from crawlers to a maximum height of 1.3m. Come any time and stay as long as you like (visits may be limited to 2 hours during busy periods).
We also offer per-pay discount cards and group booking discounts.
We are open 9am to 4pm Monday and 9am to 6pm Wednesday to Sunday. We are closed on Tuesdays
Upstairs toddlers soft play area:
Maximum height: 1m
Surrounded by comfy sofas for parents to keep an eye on their little pirates!
Pirate ship structure
Soft play area sea/sand
Waterfall twin lane wavy slide
Agility set
Build a sand castle
Shortie and Sharkie rockers
Octopus hemisphere
Vinyl curtain going into hide away – bendy mirror, matching shapes panel
Treasure hunt game – find 5 gold coins
Main pirate ship structure and adventure soft play
Maximum height: 1.3m
Pirate adventure theme
Assault course with tag boards and arrows around structure to show the route
Beach
Compass dizzy disc
Mermaid biff bash bag
Jungle
Map slippery slope
Snake horizontal roller squeeze
Crocodile decks either side of rope bridge
Treasure/Battle with pirates
Pirates cave hides den where the pirates have hidden the treasure, surrounded by hanging biff bash bags
Walk the plank surrounded by deadly sharks!
Pirate Blackbeard
3m twin waterfall wavy slide
Shortie biff bash bag
Ships helm
Jolly Roger wave deck
Spiders web
Ships wheel
Poly carbonate fear deck … enter if you dare!
View out over upper floor
Downstairs toddlers area:
Maximum height: 1m
Separated from main structure
Mermaid cove theme
Rock pool wave deck
Octopus didi rocker
Log ramp to twin lane waterfall wavy slide.
Vinyl curtain into Mermaid cave
Sports court
Maximum height: 1.3m
Pirate beach theme
6m x 4.5m
Football goals with pirate goal keepers
Cricket stumps
Targets
Soft balls
Weekly activities at Shorties:
Monday AM Funball
PM Aroma baby massage
Wednesday AM Dancin' Tots
All day Free craft club
Thursday AM Singing Class
Friday AM Free cooking club