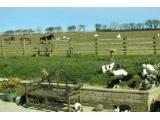 Looking for:
Animals & Farms
Address:
Mann Cat Sanctuary
Main Road
Santon
Isle of Man
Postcode:
IM4 1EE
Age Group:
All Ages
Kids Activity:
Indoors and Outdoors
Telephone:
01624 824195
Website:
Click Here
---
This manx registered charity is based in Santon on the Isle of Man, which is situated in the middle of the Irish Sea between England and Ireland. The sanctuary was founded in 1996, by Sue Critchley and Carole Corlett, to provide a safe and peaceful haven for unwanted, disabled and traumatised cats. Sadly, Carole passed away in 2001 but our work continues very much in her memory. The sanctuary is run solely by a small, dedicated group of caring unselfish volunteers. They work tirelessly trapping feral cats, making numerous trips to and from our vets, grooming and sit for hours simply comforting our residents.
Summer Opening Times
1st April - 30th Sept.
Every Sunday & Wednesday 2pm - 5pm.