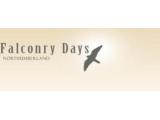 Looking for:
Animals & Farms, Zoos & Wildlife
Address:
Falconry Days
Lady Hill Farm
Simonburn
Hexham
Northumberland
Postcode:
NE48 3EE
Age Group:
All Ages
Kids Activity:
Indoors and Outdoors
Telephone:
01434 689681
Website:
Click Here
Attraction Information:
---
Enjoy a unique falconry experience giving you a rare insight into the art of falconry. Take the opportunity to get really close to, and hands on with a range of Owls, Hawks, Eagles, Falcons and Vultures.
Whether your interest is in falconry, birds of prey, bird watching, wildlife or just being out in beautiful countryside, Falconry Days will have something of interest to offer you.
If it is a Bird of Prey Display that you are looking for to attend your Show or event then we have the very best Falconry display birds that you will find, we cover most areas from Scotland, North east England, Durham, Yorkshire and Cumbria.
Tucked away in a beautiful unspoilt corner of Northumberland and set in fifty acres of private grounds on the edge of the famous Pennine Way you will find a family business with a real passion for birds of prey.
Admission:
Visitor Centre:
Adult £7.50
Child £4.50
Family (2 adults and 2 children) £21
Additional children £3.50
Falconry Experience:
Full day £99 per person
Half day £79 per person
Family Falconry Day £125 for 2 adults and 2 children. Additional cost of £25 per extra person.
Mini Family Activity Day (1 adult and 1 child) £95
Owl Encounter £49 per person
Hunting Experience £125 per person
Opening Times:
Visitor centre open daily 11am to 4pm.
Experiences must be booked in advance.
Experience has taught us that lots of people from all walks of life share a similar fascination of Birds Of Prey.
It is our aim at Falconry Days to unlock some of the mystery and allow you to get really close to these amazing creatures and at the same time promote the sport and well being of birds of prey, both in the wild and in captivity.
Falconry days is not a visitor centre with birds of prey in cages for people to walk around and just look at; we are a professional falconry business that trains and flies over 70 birds of prey, we are an activity centre and school for falconry with fully trained working birds of prey that we manage and fly in rotation on a daily basis on site and off site at country shows, schools,Hotels,caravan parks and events throughout the country.
We don't have set flying times like most bird of prey centres, flying is not restricted to only short half hour displays at 1.30pm or 3pm our day is spent first cleaning out every bird every day, we then after the daily chores are done turn our attention to flying and training all of the birds that are in the flying team, this takes place only after all the chores have been done.
Most of what we offer has to be pre-booked because of the fact that we are a falconry centre and not a Zoo, the only service you can access without first pre booking is entry into the flying field, where you can watch our birds been trained and flown, we recommend you contact us in case of bad weather as we may not be training or flying on those days. If you are looking for a upclose falconry experience you may wish to consider upgrading to our pre-booked packages, pre-booking may be available on the day. there will be days when not all of our birds are on site.
We are Not a Zoo and do not agree with bird of prey centres or Zoos keeping birds of prey or animals in cages just so that the public can look at them while pretending they are kept for conservation.