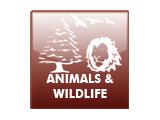 Looking for:
Animals & Farms, Childrens Activities
Address:
Chain Bridge Honey Farm
Horncliffe
Berwick-Upon-Tweed
Northumberland
Postcode:
TD15 2XT
Telephone:
01289 382362
Website:
Click Here
Attraction Information:
---
The Chain Bridge Honey Farm visitor centre was established in the early 1990s to allow the public to discover first hand the extraordinary tale of bees and honey.
The comprehensive information found on the visitor centre walls was compiled by beekeeper and honey farm employee Ann Middleditch.
There are sections on bees and bee behaviour, products of the beehive, including honey, wax and propolis, different types of bee as well as bumble bees and wasps and also information on swarms. All the exhibits are hand written by expert calligrapher Dorien Irving, and are themselves works of art.
A most popular display is the observation hive where a living colony of bees can be viewed behind glass.
You might watch these fascinating creatures for hours, particularly if you embark upon a search for the queen! See the bees visibly bring in pollen on their hind legs and perform captivating dances as they 'speak' to each other.
Adorning the visitor centre walls are intricate murals painted by artist Tony Johnson from nearby Horncliffe.
These are a 10-year labour of love. The most recent to be unveiled is a pictorial map of North Northumberland and the Scottish Borders depicting no less than 110 different sites.
Admission:
Admission to the visitor centre is free!
Opening Times:
Opening hours are Winter (November to March)
Weekdays 10am to 5pm
Summer (April to October) 7 days 10am to 5pm.