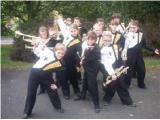 Looking for:
Childrens Activities, Childrens Clubs
Address:
Deers Lodge
Rear of Deerhurst
Kingswood
Bristol
Postcode:
BS15 1XH
Kids Activity:
Indoors and Outdoors
Telephone:
07956255419
Website:
Click Here
Attraction Information:
---
We are a non profit making, musical education activity and marching band for young people. Part of the Scout movement, and 2010 British Youth Band Association Cadet Champions, our members are all aged between 8 and 14. Our team of experienced and enthusiastic volunteers give their time freely to help coach a variety of music and choreography skills. New members are always welcome.