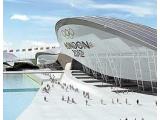 Looking for:
Museums / Galleries, Sports & Leisure
Address:
Olympic Park Tour
Bromley-by-Bow Station
Bromley-by-Bow
Greater London
Postcode:
E3 3BT
Age Group:
All Ages
Kids Activity:
Indoors and Outdoors
Website:
Click Here
---
The tour starts at Bromley by Bow underground station and finishes at Pudding Mill Lane station on the DLR. The route taken is mainly off the road, much of it along a tow path in the former industrial Lower Lea valley. Your guide will then lead you to a footpath which goes alongside the Olympic park perimeter fence. From here there are excellent views of the Olympic stadium and other 2012 constructions such as the Aquatics Centre and The Orbit. (Please note that members of the public are not allowed access to the Olympic Park).
You will hear the latest on the athletes and the venues, but crucial to London's successful 2005 bid for the games was the legacy, so you will also learn about the plans for the future of the site and the venues after 2012. This is a massive project, reclaiming 2.5 sq. kilometres of contaminated land and transforming it into a place where people will want to visit and live. Construction in the Olympic Park has entered the final stages with many venues nearing completion and landscaping is well underway. Now is the time to see it... and bring your camera!
DURATION: 2 hours maximum. The route is approx. one and a half to two miles long, finishing near Pudding Mill Lane DOCKLANDS LIGHT RAILWAY station. The terrain is mainly flat but can be muddy and there are ruts and bumps along the way.
GUIDES: All our guides are London Blue Badge Tourist guides – professionals who, in addition to the Blue Badge London qualification have undergone a training course for the 2012 games.
WEATHER: The tour will run, whatever the weather.
CANCELLATIONS: Please always check the Transport For London website to ensure that there are no engineering works in the area that may delay your journey. In the unlikely event we have to change the start venue of the walk for this or any other reason we will place an announcement on this website so please check before you start your journey.
Walking Tours
WHEN:
11am Every Day
WHERE:
Bromley-by-Bow underground station (District/Hammersmith and City lines)
COST:
£9 Adults, £6 children (15 and under), students (with student ID card), and seniors.
From January 1st, 2012: £9 Adults, £5 children (15 and under), £7 senior or student (with valid ID card).
PAYMENT:
Cash ONLY – payment to the guide on the day. Please have correct change.
BOOKING:
Pre-booking is required online. This will guarantee you a place on the tour.