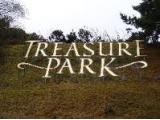 Looking for:
Parks & Gardens
Address:
Tolgas Mill
New Portreath Road
Redruth
Cornwall
Postcode:
TR16 4HN
Age Group:
All Ages
Kids Activity:
Indoors and Outdoors
Telephone:
01209 218198
Website:
Click Here
Attraction Information:
---
Treasure parks is one of Cornwall's leading free family holiday attractions. Whether you're local or on holiday the park hosts an array of activities and fun to suit all ages. Built on the site of the Tolgus tin mine and set in stunning grounds, Treasure Park captures the amazing historic Cornish heritage and the glory of the British garden. On site you will find a selection of stunning retail and jewellery shops, a pottery, jewellery workshops and children's entertainment outlets all linked by twisting paths, quiet streams and water wheals.
Rest and enjoy lunch at the sites restaurant 'Oscars' or a speciality coffee at 'Starstruck' coffee bar, Visit the Redruth museum and Tolgus Tin Mine Works followed by a look in the gift shop. Hunt for the sites many magical displays – 'Back to the Futures' delorean car or maybe 'One Million Ponds' in five pound notes. With a 4D Ride, build your own cuddly friend at the 'Bear Works', creative pottery paining, candle dipping, panning for gold and many other children's activities your family are sure to love the visit.
With Free entry and Free parking and a dog friendly site, the whole family can enjoy the fun at Treasure Park - a must for your 'Holiday things to do' list on a treasured visit to Cornwall.
KIDS STUFF:
Wacky Test Tubes
Find a Fossil and Crazy Sand
9-hole crazy go
There are many activities besides the 4D Mine Ride, Panning for Gold, the Bear Works and Pot of Gold that will keep the children happy and entertained all day.