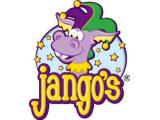 Looking for:
Indoor Play Areas
Address:
Jango's Indoor Play Centre
Sandland's Court
Fulmar Close
Forest Town, Mansfield
Nottinghamshire
Postcode:
NG19 0GG
Kids Activity:
Indoors
Telephone:
01623 621 485
Website:
Click Here
---
The massive play equipment structure at Jango's has been designed to ensure children of all ages, from 0 to 11+, enjoy play in its most unadulterated form.
With obstacles and slides, balls and climbs purposely placed to challenge all the youngsters and parents alike.
Jango's Indoor Play Centre is open for you and your children to enjoy from 9.30am to 6.30pm EVERYDAY!!
Except Christmas Eve, Christmas Day, Boxing Day, New Years Day and Easter Sunday - even Jango the Jester needs a day off!!
Last entrance is 5.00pm at the discretion of the Centre Manager, except where special events determine an earlier closing time.
Entrance for children ages 1 to 3 to Jango's for 2 hours play is just £3.50 per child
Entrance for children ages 4 to 11 to Jango's for 2 hours play is just £4.95 per child.
Further to these fantastic prices there will be a discount structure in place for multiple birth families, as follows...
Where all children are aged 1 to 3 -
2 children aged 1 to 3 will be just £6.50
3 children aged 1 to 3 will be just £9.50
4 children aged 1 to 3 will be just £12.50